Cisco Business Phone Systems

- Serving Houston, TX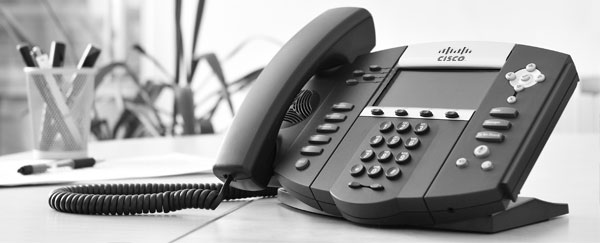 The Old vs. The New
Many businesses today are still relying on separate phone lines that work independently outside of their data networks. Advances in technology now make business phone systems a part of your existing network, reducing the costs for equipment, maintenance and troubleshooting considerably. By combining your phone and data networks, you'll enjoy:
Increased Security
Keeping tabs on one network, with a carefully designed set of security protocols makes everything safer and more secure. eTech experts' experience in IT security means less hassles for you and a stable, secure network that just works!
Complete Scalability
The Cisco phone systems we install offer many scalability options that grow with your business. Never buy more than you need and ensure that you have room to expand at anytime in the future.
Improved Productivity
The advanced features of our Cisco business phone systems mean your staff gets more done with less. From integrated contacts with Outlook, to advanced call forwarding, voicemail and faxing, you and your staff will have everything you need to serve your customers whether they are in the same room, across town or across the country.
Flexibility
Need to move your office to another location? It's as simple as moving your network! No new phone lines to install. Your existing phones and service move with you wherever you go. Our Cisco phone systems also provide phone service for remote workers and sales staff so everyone is always on the same page.
Wide Range of Enterprise-level Features
Enjoy a wide range of features that were previously only available to large businesses in the Houston, TX area including:
Unified messaging
Multimedia conferencing
Advanced call routing
Integrated contact management
Voicemail to email functionality
Automated attendants
Smartphone apps
and much more…
Business Phone Systems Customized For YOUR Needs
While eTech experts only sells Cisco business phone systems, we offer a variety of solutions that can be customized for your needs and budget. We'll help you determine the best phone system for your needs based on a number of factors including:
How many users you have.
Whether you need services for remote workers or traveling sales personnel Whether you operate in just one or multiple locations. Whether you need phone services that work outside of the United States and much more…
After we determine your needs, we'll recommend the best phone system, tailored to your needs and budget. In many cases, we're able to upgrade our customers' phone systems and save them money in the long run, providing an excellent return on their investment!
Want to know more? We service customers throughout the Houston, TX area. Contact eTech experts today for a FREE quote or to get more information on upgrading your business phone systems.